Mugabe like Mandela, he was a black revolutionary, a prisoner, turned president who avowed racial reconciliation and became a darling of the west. Like Mandela, he lost his father around the age of 10, became politically active at South Africa's Fort Hare University, and suffered the death of a son. Like Mandela, he bears the stamp of British colonialism but remains a hero to many in Africa.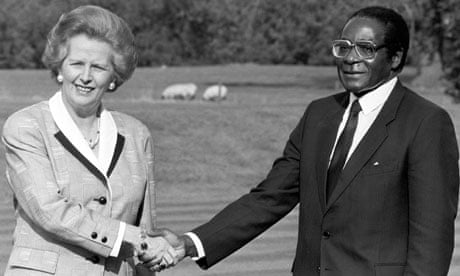 Yet whereas Mandela relinquished power after one term of five years, Mugabe is now in term seven and year 34. Whereas Mandela's 90th birthday was celebrated around the world – he spoke to a rapturous applause at a concert in London – Mugabe reached the milestone as an international pariah, his country's economy again teetering on the edge.
                                                                                                                                VS
Two great questions dominate the story of Africa's oldest leader. One is the stubborn mystery of how a giant of its liberation movements, an intellectual who showed forgiveness and magnanimity years before Mandela emerged from jail, could turn into the living caricature of despotism. The other is what his eventual demise will mean for Zimbabwe, a beautiful yet benighted land that has known no other leader since gaining independence from Britain.
While South Africa is now under its fourth democratic president in two decades, Mugabe has imposed himself on a nation's soul. The culture of the 13 million Zimbabweans he rules is one whose gentleness and articulacy seem at odds with the catalogue of torture and thuggery. This is a fertile land with the best climate in the world that has been brought to the edge of ruin.
Some date the start of Mr Mugabe's misrule to the emergence of his rival as the great independence hero of Africa. Until Mr Mandela left his apartheid prison, in 1990, Mr Mugabe could do no wrong. He was feted as an anti-apartheid leader, a man who reconciled different races and presided over a shining economy. Mr Mugabe was the star of the region, but then the sun rose.
Mr Mandela promptly stole all his attention; South Africa's vastly bigger economy drew investment, press coverage, foreign plaudits. To Mr Mugabe's evident personal dismay, Zimbabwe was cast into the shade. Mr Mandela's biographer describes Mr Mugabe twitching with distaste and annoyance when the two men met, shortly after the South African won his freedom.
No love is lost between the two elder statesmen. Just as Mr Mandela emerged as the voice of reconciliation and modernity in Africa, Mr Mugabe reverted to populism, land-grabs and bashing foreigners. It is quite possible that Mr Mugabe, increasingly bitter, dreams of holding on to power long enough to see the back of some of his foreign rivals. 
In a South African TV interview last year, Mugabe responded to the critics of his land reform programme. "They will praise you only if you are doing things that please them," he said. "Mandela has gone a bit too far in doing good to the non-black communities, really in some cases at the expense of them … That's being too saintly, too good, too much of a saint."
Mandela was a self-confessed anglophile and comfortable in his skin. But many of those who know his Zimbabwean peer describe an unresolved inner conflict between Mugabe the African nationalist and Mugabe the son of British colonialism.
The late Heidi Holland, who interviewed him for her book Dinner with Mugabe, described him as having tears in his eyes when discussing the royal family. Tendai Biti, the former finance minister, called him "a British gentleman in a proper Victorian sense". Last month, Mugabe himself joked that he still measured distances in miles, unlike most Zimbabweans who use kilometres. "I am very British, you know.I am English again, don't forget." he said.
Makoni, who quit Zanu-PF to lead his own party, Mavambo Kusile Dawn, after a failed attempt to defeat Mugabe, said: "I would say Britain is a passion, not an obsession. He loves the place and its character, its mannerisms.
Two political titans, two sides of the same coin. Today Mandela is revered as the greatest statesman Africa has produced; Mugabe is seen, by the west at least, as its fallen angel. Allister Sparks, a veteran journalist, recalled a conversation with Mandela: "We got to talking about Mugabe, whom he really profoundly disliked, and I think it was reciprocated. He said, 'You know Allister, the trouble with Mugabe is that he was the star – and then the sun came up.'"
But here is what a sizable number of Africans think:
Let us be clear, Mandela's greatness as a person must remain beyond dispute. His immense personal sacrifice, 27 years of his life in a racist jail, choosing to remain there rather than renounce his people's right to resist their dehumanisation has to be recognised. However his popularity with the west is not down to what he did for the blacks – helping them win freedom, it is down to what he did for their white oppressors – forgiving them their crimes and allowing them keep their stolen wealth after they lost formal political power
As for Mugabe, personally he can be cruel and vindictive, but his courage, personal (like Mandela) and political (unlike Mandela) cannot be denied. He fought in the bush for 11 years against Rhodesia's vicious racist regime and has had the guts to seize the land they stole from the original inhabitants. Mandela great man that he is, sometimes comes across as being a bit more concerned about what is said about him in the editorial columns of the world's great newspapers than the genuine interests of the shanty town dwellers whose blood, sweat and struggles brought him and the ANC to power.
Mandela's greatness they say is down to his lack of 'bitterness' against his enemies, inspite of the terrible crimes they committed agsint his person and above all, his people. In that case since imitation is the sincerest form of flaterry, why don't the west also show the same forgiveness to their own enemies.
Look through history and point out just one instance when any Asian, Arab or African who harmed white people has been treated with anything but the most ferocious brutality. The Nazi's (white caucasians) kiled 6 million European jews, none of their leaders were tortured by the victorious allies. Al Quaeda killed 3000 Americans, they put so much electricity up their backsides, the Iraqi national grid is still to recover its electrical capacity
When a dark skinned person harms white people – they always call for justice
But when a White skinned person harms dark skinned people the call changes to the need for 'truth and reconciliation'
Mugabe refuses to play that game, that's why they hate him
Mandela played it brilliantly, that's why they love him
What do you think? Put your comments below!