Songstress Ammara Brown has challenged the corporate world to support the local arts industry saying talent alone is not enough as they need financial backing to develop it.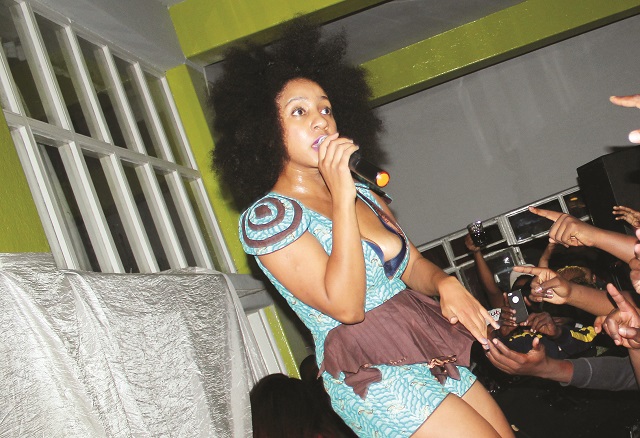 "South Africa invests heavily in their arts industry and it becomes lucrative. Zimbabwe isn't short of talent and we're literally bursting off the seams with talent," said Ammara.
The artiste, who was in Bulawayo over the weekend with rapper Tehn Diamond for his Tehn Outta Ten Tour at Club Connect however, acknowledged that they had a long way to go as artistes in enticing the corporate world to support them.
"The entertainment industry is a business and some of us should start treating it that way. Once we do so, the corporate world will start paying attention and start investing in us," she said.
". . . because, if Zimbabwean corporates don't pay attention, corporates from other countries are going to take us as they're watching."
The Wachu Want hit-maker who last year collaborated with South African artistes such as Sizwe Ngubane and Zinhle Ngidi said staying relevant and taking her music as a business was the key to her success.
"I don't believe in staying the same. I've grown because when I listen to my music from three years ago and compare it to now, it's sounding different. People never know what to expect from me as they are always exposed to a new and improved Ammara."
Turning to her performances, Ammara who refers to her fans as Ammaritians, equated the love she has for them to the love she has for her son.
"I think there's a point in every artiste's career when you realise that it's not about you. Even though it's your dream and goal (to be an artiste), you realise you're responsible for so many people's memories as you become a part of the fabric of your fans' lives," she said.
Ammara said she enjoys watching fans showing appreciation for her music when she is on stage as well as having people approach her to reminisce about her previous shows.
"I feel a lot of things when I'm on stage. I feel overwhelmed, grateful and inspired. I love seeing my fans with me (on stage). They're just the other half of my world to me, my son (Khameel) being the other half," she said
Source :