Unlawfully evicted, family from Zimbabwe adjusts to life in Stouffville
Mark McKinnon chose to leave farm his grandfather bought in 1958 for his family's safety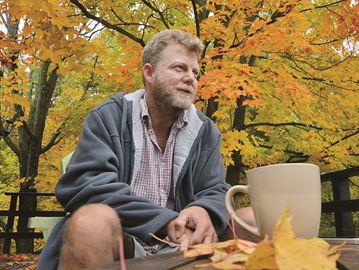 Mark McKinnon
Mike Barrett/Metroland
Mark McKinnon, his wife and three sons are temporarily staying with his aunt in Whitchurch-Stouffville after leaving Zimbabwe.
Stouffville Sun-Tribune
A white farming family from Zimbabwe has sought refuge in Whitchurch-Stouffville after the government unlawfully evicted them from their generations-old farm.
Mark McKinnon, 41, his wife and his three sons chose to leave their old lives behind for a new one in Canada. After more than a decade of battling a corrupt government, McKinnon ultimately decided Zimbabwe wasn't safe for his family anymore.
"Our lives were in danger," McKinnon said. In late August, back on his farm north of the capital Harare, he was faced with a choice: to keep his family safe or stay and fight endless corrupt court cases to reclaim his farm.
"I drove into the yard and there must've been 30 youths with the beneficiaries and the sheriff of the court, to evict us," McKinnon said. "With a letter from some judge who didn't even sign the eviction order."
After seeing his furniture and belongings dragged out of his home and dumped in the yard, McKinnon knew there was no negotiating.
The Zimbabwean Ministry of Lands and Rural Resettlement is responsible for land reform as all lands in Zimbabwe are owned by the state. But often ministry officials are involved in corrupt activities and deals.
Zimbabwe has been led by president Robert Mugabe since 1987, effectively creating one-party rule for the last 30 years. White Zimbabweans make up less than one per cent of the country's population of 13 million and are subject to discriminatory land policies.
"Mugabe said all whites – doesn't matter if you're farming or not – but no whites can own land," he said. "That's basically what it's boiling out to be. The Ministry of Lands is the most corrupt department in Zimbabwe; it's got nothing to do with white, black or coloured, it's about how much green money you have in your pocket."
McKinnon's farm was purchased by his grandfather in 1958. A Canadian citizen from Vancouver, B.C., McKinnon's grandfather worked in Zambia and Zimbabwe, eventually settling down on the farm.
As a result of his grandfather's citizenship, McKinnon and his sons – all born in Zimbabwe – have maintained dual citizenship of Canada and Zimbabwe. But life in the only home they've known was becoming too dangerous; McKinnon's parents are now in Vancouver after facing arrest and detainment.
"My folks had been arrested, threatened on the farm, just before we got kicked off the farm. Both my mom and dad spent four days in cells," McKinnon said.
Now safe in Canada, McKinnon says the adjustment is "strange" as he and his family had never been to Canada before.
"Canada's beautiful, everyone's so friendly, it's strange," he said. "Back home everyone's very guarded; here everyone's welcoming and friendly."
The peace and quiet in his aunt's rural Whitchurch-Stouffville home is also quite an adjustment, as McKinnon was born during the Bush War and grew up surrounded by conflict.
"I haven't known peace," he said. "Zimbabwe's never been at peace in my whole life."
McKinnon now hopes to start again in Canada after arriving with only two suitcases. He's already put his sons in school and he's getting permanent residency for his wife. The adjustment for his sons has been positive.
"The kids have made friends immediately in school; they got a crazy accent so everyone wants to listen to their story," he said.