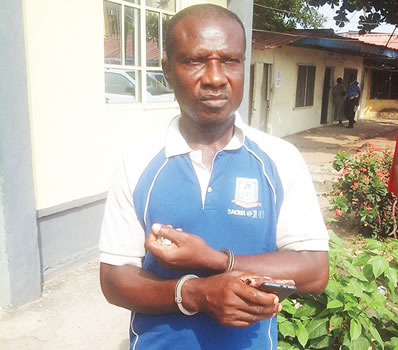 Frank Darlington, the manager of Soccer Warriors Football Academy, Pen Cinema, has been arrested by the Lagos State Police Command, for allegedly sodomising three of his teenage players, in Agege, Punchng reports.
He was arrested last Thursday, after one of the victims reported him to the police. Darlington, 49, who hails from Imo State, allegedly took three footballers to his house on separate occasions after training sessions, and sodomised them.
Darlington's wife and 3-year-old daughter, lived in Imo State, after the two got divorced in March 2016. The police said the suspect allegedly penetrated the victims' anuses, and would be charged for sodomy.
While confessing, Darlington said,
"It was in February 2015 that the rape started. I usually had sex with my boys just to play with them. It was romance. We had fun together. The last one I did was in July 2016, knowing that it could get me into trouble.

I slept with only three of my footballers. I have been coaching for about 12 years. The sex with the boys was not for any ritual. I only derived fun from it. I knew it was a crime and that was why I stopped this act since July. I pledged not to go back into this."
One of the victims, Kehinde (pseudonym), told our correspondent that Darlington threatened him that he (Kenny) would die if he told anyone about the sodomy.
The 18-year-old said he was forced to tell his mother when Darlington made it a habit.
He said,
"He always had sex with me and with most of us. He started last year. The first time he approached me was after a training session. He said my performance was bad and I should meet him at home for a discussion.

When I went, he molested me. He did not use any protection. He did not give me any money, but he threatened that I would die if I told anyone. I cannot count how many times he had done this to me. I told my mother when I was tired of his abuse."

Another victim revealed that a large number of footballers at the academy had withdrawn because "he always slept with 2 or 3 of us every week."
Source :