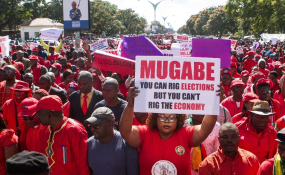 Photo: The Standard
President Robert Mugabe's lavish 93rd birthday party is less than two weeks away – and a group of activists is trying to get it blocked.
The Tajamuka [We are agitated] protest movement says it is "insane" for Mugabe's ruling party to want to celebrate when a worsening economic crisis has left up to 90% of Zimbabweans without formal employment.
As bank-card carrying Zimbabweans spend hours in queues trying to access paltry sums of cash, fundraisers for the party have demanded donations from civil servants, businesses and officials. There's some discrepancy over exactly how much they aim to raise.
A party official last month said each of Zimbabwe's 10 provinces should raise $25 000, making a grand total of around $250 000, which is what Mugabe's party cost in 2009. However, unnamed sources have told NewZimbabwe.com the real goal may be $2.5m.
Tajamuka's Happyson Ncube told the Southern Times Express this weekend: "We are mobilising all Zimbabweans and we know people have been forced to make donations towards Mugabe's birthday."
But the protest group, which sprang up soon after Pastor Evan Mawarire, launched his ThisFlag movement does not have wide support.
Previous Tajamuka promises of "massive" protests against Mugabe and his government have not come to anything.
Mugabe's birthday party – what you need to know:
Where : On a rugby pitch at the Rhodes Estate Preparatory School near the Matopos National Park, about half an hour's drive from Bulawayo. (Cricket player Henry Olonga is reported to have attended this school). Initially the venue chosen was inside the park, which is where there are mass graves from the mid-1980s Gukurahundi era. It's also where British imperialist Cecil John Rhodes is buried.
How many will attend : 100 000 according to state media (although youth leader Kudzai Chipanga has suggested today it could be as many as 200 000). The 150 cattle to be slaughtered will be a huge draw card.
Will Grace be there? Very likely. Grace is about to take centre-stage again politically as she starts holding rallies around the country, likely to drum up support against VP Emmerson Mnangagwa. There's been speculation she may try to get herself elected as an MP next year.
Cakes? There will be many. As is the custom, Mugabe's main (donated) birthday cake will weigh exactly the same number of kilograms as years he's accumulated. So in this case, it'll weigh 93 kg.
Source :