Notice
: Undefined variable: fm_appid in
/var/www/wp-content/plugins/facebook-members/facebook-members.php
on line
71
Mugabe Death Implications (If True), Tsvangirai's Eddie Cross Writes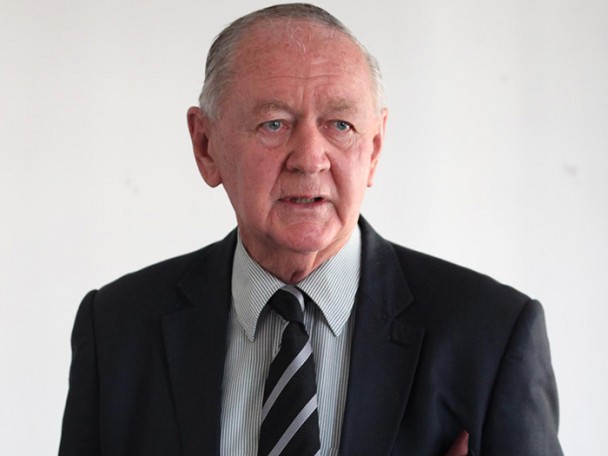 Morgan Tsvangirai chief whip, Eddie Cross writes giving what may be a credible account on the rumours plaguing the country regarding the President's health and status and what the immediate implications of these are. He explains on the bizarre 2 week ban on street protests.
"What now happens is that the Constitutional transition to a new President starts. The Acting President is Emmerson Mnangagwa who will now assume control of all the levers of the State. This phase runs for 90 days and then Zanu PF must hold an elective conference at which a new leader will be elected who then completes the term of office of Mr. Mugabe through to July 2018." FULL TEXT BELOW:

New Beginning
By Eddie Cross| After days in bed at home, the Old Man of Zimbabwean politics dragged himself to the Show Grounds to hear the guest speaker open the show and tried to do a short walk about. He was clearly not well. Then to our astonishment he left the country to fly to Kenya for a Japan/Africa summit. There he actually made a speech but still looked dreadful and really should have been at home
At the close of the summit he flew to Swaziland to attend a meeting of SADC Heads of State. For a much younger man this would have been a punishing schedule and on the plane to Swaziland he had some sort of medical collapse. He nevertheless tried to attend the meeting on Tuesday but collapsed in the meeting and was given medical treatment and then taken to his plane to fly home early.
The plane flew to Harare where a medical team and fresh crew and fuel were loaded and then they flew out – we suspect to his usual medical center of Singapore. However, in flight, they diverted to Lusaka and then Dubai on the basis of a medical emergency. What was wrong – as usual we were told nothing but we hear that the Old Man had a stroke.
I do not think he can come back from this and we must now assume that the long awaited transition to a new government and new leadership is at long last about to start. It would have been so much more dignified if he had recognised that his "sell by" date had arrived and he had retired and handed over to a chosen successor.
What now happens is that the Constitutional transition to a new President starts. The Acting President is Emmerson Mnangagwa who will now assume control of all the levers of the State. This phase runs for 90 days and then Zanu PF must hold an elective conference at which a new leader will be elected who then completes the term of office of Mr. Mugabe through to July 2018.
Then in July 2018, unless otherwise decided, the country will go to an election and a new democratic government will emerge and take over. So we are now back in another transition after the failure of the Mbeki transition of 2007 to 2013.
The problems that will confront the new leadership in Zanu PF are daunting. I estimate total national debt now at $30 billion and rising daily, interest on this debt is already in excess of $1 billion a year or a third of total State revenue. The fiscal deficit is totally out of control and I have never seen such low confidence in every sector. The banks are unable to function normally, tight restrictions on all cash withdrawals, inadequate foreign exchange for imports and shortages are emerging and prices rising.
We are importing 80 per cent of our food needs and some 5 million people need food assistance to meet their basic needs. A million kids go to school hungry and a third of all school children are orphans. Our State wage bill is running at $280 million a month, against revenues of about $250 million. Civil service salaries, already inadequate, are being delayed and pensions are months behind. Street protests are taking on a new dimension and threaten stability. Treasury bills, usually a secure form of investment are being sold at a massive discount and all other assets, especially property is selling for up to a 90 per cent discount. What a mess!
In addition to all these problems the new leadership is going to have to try and maintain the reengagement process started in 2012 with the IMF and the other multilateral financial agencies. Critical to this process is the need to urgently restore credibility to the State as representative of the people of Zimbabwe and as a stable, law abiding player on the global stage of world affairs. Difficult if you are Emmerson Mnangagwa with 36 years of abuse on your shoulders and a tarnished record in the field of the rule of law and human rights abuse.
If that was not enough, the new leadership assumes control of a regime that is corrupt from the top to the bottom of the State. Perhaps a third of all revenues are being siphoned off in the form of "rentals" being demanded in every sphere of activity. Patronage is endemic and is the glue that holds the regime together, without it the State would disintegrate.
Then there is the situation in the Zanu PF Party itself. The Party is not divided, it is fractured and no reconciliation is possible. Tough for the Mugabe and G40 factions because, like the situation in a lion pride, a new dominant male is now in charge and soon he will systematically kill the progeny in the Party of all contesting males. Personally I am delighted as there are some very nasty rogue elements in there today. The signs are there already that this process is under way. Grace has skillfully rolled over in front of the new dominant male lion and pledged allegiance. I wonder where Jonathan Moyo will run to for protection.
For Emmerson, this is the day he has been working towards for many years and he is fully aware of the challenges and the threats. He has two options – retreat into a closed, oppressive North Korea type State, where the international Community, on humanitarian grounds, feed the general population while the elite live wealthy secluded lives, protected by a privileged military. Or he can engage with the local population and the international Community to seek solutions; restore confidence and secure the assistance that is needed to put the country back together again.
His problem with the latter course of action is that all roads lead to a credible election in 2018, preceded by tough economic and political medicine. I have no doubt at all that in such an election, the Zanu PF Party would be totally eliminated from national political life, there is nothing left of Zanu today. But that is the price that must be paid for 36 years of failure and abuse. If he wants to rescue anything from this mess, then he has to negotiate, first with the rest of us who live here and secondly with the people who hold the purse strings.
We know what is needed – a massive, immediate, injection of funds to keep the State stable and to meet immediate needs in all fields. These funds can only come from direct bilateral grant aid by the countries that form the backbone of the G20 Grouping meeting in China this weekend. These are political resources and can only be unlocked once the new regime has done a deal with the major power brokers.
We can all imagine what the deal with the global community might entail – respect for economic fundamentals first, acceptance of the conditions under which the next elections will be held, reforms to restore confidence and respect for basic human and political rights and strict time lines. Because of the past there will be almost no confidence or trust in the undertakings of any local leadership and therefore there would be very strict compliance rules.
If managed properly and based on some sort of consensus, the phase leading up to the next elections could begin to see economic recovery and political stability. Negotiating through this minefield will need good facilitation by regional States and I am sure this will be forthcoming.
But for most of us who have made Zimbabwe our home, the passing of the Mugabe era will simply come as a great relief. It seems to have gone on forever. The majority here have never known any other sort of regime. We simply do not know what it is like to live in a normal democracy with a stable and growing economy.
Eddie Cross
Johannesburg, 2nd September 2016