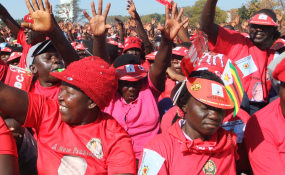 Photo: Laura Angela Bagnetto/RFI
By Marcus Mushonga
Harare — TROUBLED Zimbabwe appears heading for further tensions ahead of next year's general elections after long-time opposition leader, Morgan Tsvangirai, said his Movement for Democratic Change (MDC) party would reject a victory for incumbent Robert Mugabe.
Tsvangirai, the former prime minister, was speaking at the commemoration of Workers Day held at the working-class Dvivarasekwa suburb of western Harare. "We will not agree on an outcome that is not my victory. If I don't win I will not concede," he maintained. He accused the government of Mugabe (93) of plans to rig the election in fear of a threat posed by a united opposition. "Mugabe wants to cheat. He thinks he can get away with cheating to victory," claimed the former secretary general of the Zimbabwe Congress of Trade Unions (ZCTU).
"How does a fragmented minority win over a united majority now that we are all wiser than in 2013 because of the grinding poverty?" quipped Tsvangirai. Ahead of the watershed polls, the ruling Zanu-PF is beset by divisions caused by leaders eager to succeed him. These have turned violently in recent weeks. The party's fortunes are in contrast to the opposition, which recently confirmed a coalition to challenge Mugabe and Zanu-PF, which have ruled the country since independence in 1980.
At the May Day commemorations, endorsed Tsvangirai to lead the coalition. ZCTU president, Peter Mutasa, said, "We will back Tsvangirai, a proven labour leader and unlike Mugabe we know he will hand over power." Among other unions represented, which backed Tsvangirai include Progressive Teachers' Union. Tsvangirai has been Mugabe's biggest threat to power since the formation of MDC in 1999 but argues Mugabe always prevails through vote rigging and violence. "MDC has identified new strategies that will not enable Mugabe and Zanu-PF rig the 2018 elections," Tsvangirai assured.
Source :