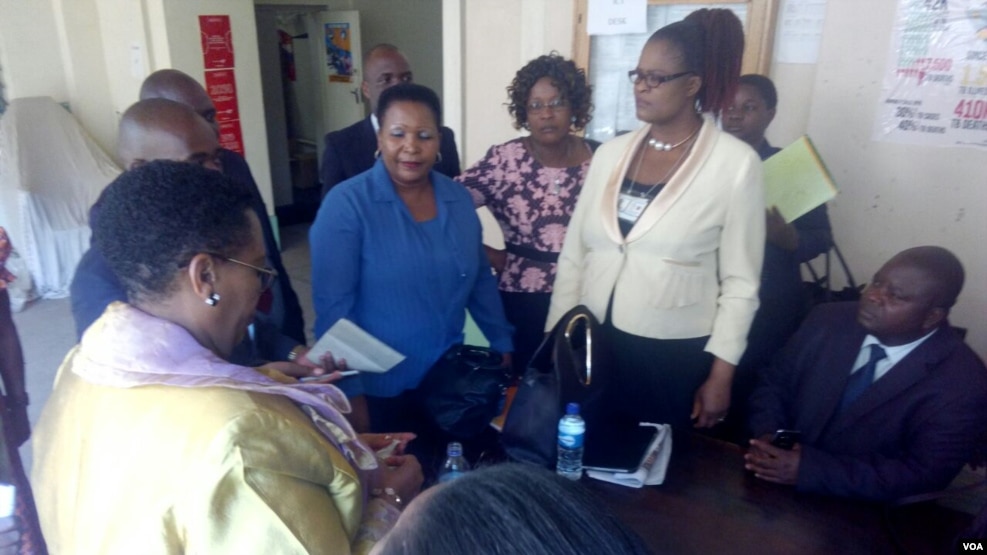 WASHINGTON — 
There was chaos in Zimbabwe's parliament Wednesday when police attempted to eject an opposition Movement for Democratic Change (MDC) lawmaker, who was wearing a jacket with national colors.
Police were called by acting Speaker of Parliament, Mabel Chinomona, after attempts to remove Costa Machingauta from the House of Assembly for breaking the dress code were unsuccessful.
According to some Members of Parliament, MDC-T lawmakers blocked police from removing the Buridiro legislator from the august house resulting in a scuffle with the law-enforcing agents.
In the ensuing melee, two female MPs Susan Matsunga and Lwazi Sibanda, claimed that they were touched inappropriately by the police.
Matsunga claimed that the police fondled her breasts while Sibanda alleged that they tore her undergarments and touched other sensitive parts of her body while attempting to arrest Machingauta.
Chinomona promised to investigate the issue while appealing for calm in parliament after MDC-T lawmakers walked out of the House of Assembly protesting against the subsequent arrest of Machingauta.
At the same time, Sylvanos Mudzova of Tajamuka-Sesijikile Campaign staged a protest outside Zimbabwe's parliament to highlight issues affecting Zimbabweans.
He was wearing a replica of a prison uniform to show that most Zimbabweans are suffering in the southern African nation.
Mudzvova was once brutalized by some suspected state security agents who beat him up severely before they left in a huff when some villagers rescued him in a hilly area outside the country's capital, Harare.