VANCOUVER/COLOGNE– President Robert Mugabe's daughther, Bona Nyepudzai nee Chikore, is set to make a grand entry into Zimbabwe's politics, through a shock appointment into cabinet, as a minister, under Vice President, Emmerson Mnangagwa's now pending presidency, The Telescope News, has been informed.
High level sources inside government have revealed, for the first time that first lady, Grace Mugabe, is the brainchild behind the move, and is thought to have come to an understanding with Mnangagwa, to accommodate her daughter in the futuristic cabinet, under a second republic president, which this publication as in previous reports, can confirm will be Mnangagwa, who is now the de facto president in the eyes of many Zimbabweans, as he will continue to be acting president on several occasions this year, when Mugabe flies out for African Union (AU) or Sadc business, as he chairs both political blocs.
Our sources said, the current secret political arrangements for a post-Mugabe administration headed by Mnangagwa, could explain why Mugabe has delayed announcing a cabinet reshuffle, to pave way for the ironing out of Bona's cabinet post, which is intertwined with Grace bagging the ministry of defence, under her husband's present tenure.
Indications are that Mugabe might announce a cabinet reshuffle soon, with some maintaining that the new look administration, might have to wait out results of by-elections in about 21 constituencies that have fallen vacant, after the Speaker of Parliament, Jacob Mudenda, dismissed rebel MDC legislators including firebrand former finance minister, Tendai Biti, for walking away from former prime minister, Morgan Tsvangirai's MDC-T, upon whose ticket they campaigned and won parliamentary seats, to form their own political party, now collectively known as the United Movement for Democratic Change (UMDC), after merging with the splinter MDC faction led by Welshman Ncube's MDC-N.
"Grace Mugabe wants to cut a powerful deal with VP Mnangagwa, which shall see her being appointed defence minister, if Mugabe approves it, as there appear to be some resistance by some quarters of the security forces, which is not a big problem, as everyone is thinking about securing their future," said a long serving senior civil servant.
"They are not sure what the first lady is up to, and perhaps want assurance that the present military regime, will not be purged. The reasoning by Amai, I think is to secure a powerful ministry so that she comes into government with real power, and then work out something for Bona, who is favoured to become either youth and gender affairs minister or the big prize of foreign affairs."
The Telescope News, understands that Bona might despite her youthful age earn the foreign affairs cabinet post, in what is seen by some as preparation for a possible shot at the presidency itself, although that is a very unlikely scenario, due to party hawks also aiming for top positions when Mugabe calls it a day.
However, having Bona in the future government under Mnangagwa, it thought to boost chances for another Mugabe securing a presidium slot, in this case, the first lady herself.
"Politics is very dirty and dynamic," said a Zanu PF Women's league top cadre. "As women, once we have Amai and Bona, with high cabinet positions, it is easy for us, to demand the vice presidency."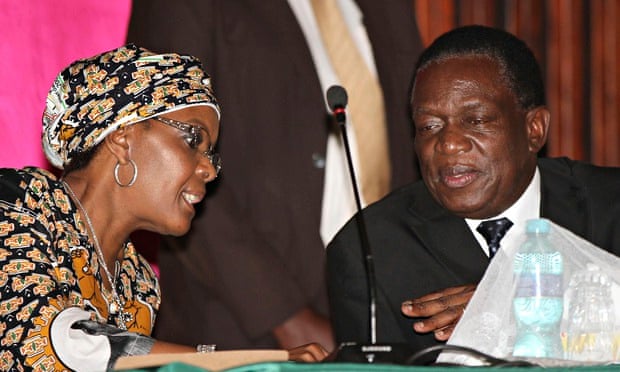 This publication has been told but cannot varify, claims that Grace wants to be appointed Mnangagwa's second Vice President, when he sweeps to power, and there are no qualms with incumbent Phelekezela Mphoko, going a step up to fill Mnangagwa's current pair of shoes. However, there might be a serious political maze to navigate for Zanu PF, as information minister, Jonathan Moyo, appears to be gaining favour ahead of Mphoko to become Mnangagwa's deputy.
Zanu PF officials said, if this was to be the end scenario, VP Mphoko might be generously asked to retire on full pay and benefits, but all depended on his cooperation.
Bona sent tongues waging this week, when she appeared on televison, attending a high profile government meeting in Japan, as she sat next to Mugabe, triggering suspicion that the Zanu PF strongman could slowly be nudging her into foreign relations politics, as father and daugther made talks with Japanese prime minister, Shinzō Abe. The first daughter, also attended a United Nations World Conference on Disaster Risk Reduction in the Asian country.
Moyo defended Bona, saying she was paying a courtesy call on Japanese officials on Tuesday.
"She's part of the first family. It was a courtesy call," Moyo said on his Twitter page. "Chelsea Clinton used to join former US president Bill Clinton in similar cases with no eyebrows raised."
Bona has a Masters degree in banking and finance, but has played no part in politics until now. Previously she has attended Zanu PF star campaign rallies for Mugabe's re-election bids, but has not taken to the podium.