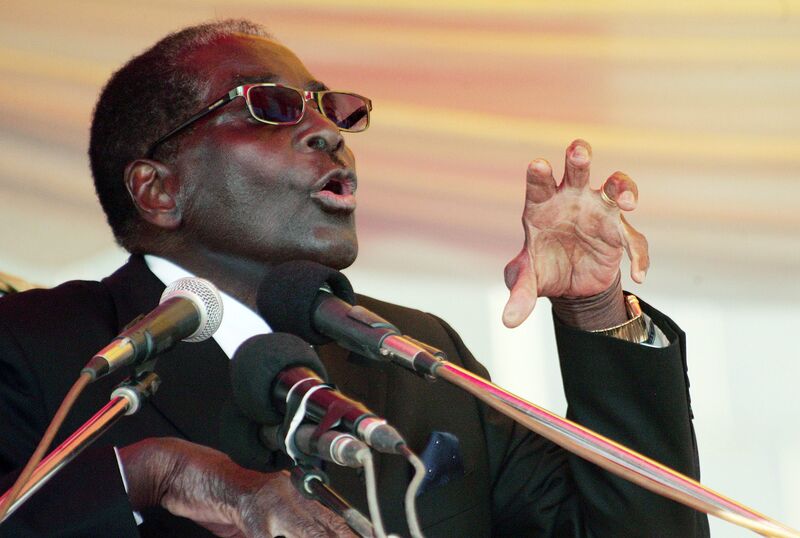 As he marked his 93rd birthday Tuesday, Zimbabwean President Robert Mugabe signaled that he has no intention of retiring any time soon and voiced support for U.S. President Donald Trump's policy of putting his country's interests first.
Speaking softly and haltingly in an interview with the state-owned Zimbabwe Broadcasting Corp., Mugabe said he would only heed calls to step down from within his ruling Zimbabwe African National Union-Patriotic Front.
"They want me to stand for elections," he said. "If I feel I cannot do it any more, I will say so to my party so they relieve me. For now, I think I can't say so. Also the majority of the people feel that there is no replacement actually, no successor who to them is acceptable as I am."
The world's oldest-serving leader, Mugabe has ruled Zimbabwe since independence from the U.K. in 1980 and overseen an economic meltdown that's left more than 90 percent of the workforce without formal employment. He will seek to extend his rule next year, with Zanu-PF nominating him as its presidential candidate.
Two Zanu-PF factions are vying for power when Mugabe does leave office — one that backs his wife Grace and the other coalescing around Vice President Emmerson Mnangagwa, a former spy chief. While Mugabe said he wasn't grooming a successor, he sees no reason why his wife shouldn't participate in politics and described her as "well-seasoned" with "a very strong character."
"Leaders will have to be, you know, given time to develop and to have that ability to meet with the people and be judged by the people," he said. "The people, you know, would want to judge everyone else on the basis of President Mugabe. I have been at it for a longer period than anyone else."
Mugabe said while he was surprised by Trump's election, the U.S. president needed to be given time to prove himself.
"America for Americans, on that we agree," he said. "Zimbabwe for Zimbabweans."